Welcome Little Brains
Welcome to
PaintYourBaldSpot.com
an archive of Don and Mike Show Podcasts and blogs.
Comments property of their respective submitter. Podcast property of their respective owner. All other material property of
PaintYourBaldSpot.com
.
Audio Player courtesy of:
www.1pixelout.net
.
Please help keep PaintYourBaldSpot.com alive
Maintaining the PYBS internet connection and server requires a substantial monthly cost. Please consider donating to PYBS (via the donate button below) or by using the advertizing banners for your next online purchase. By using the advertizing banners you get a great deal and help PYBS. Any donation or advertizing banner purchase is greatly appreciated!
Thanks for all the kind words about the site and keep all the great segment comments coming!
PaintYourBaldSpot.com is now on
facebook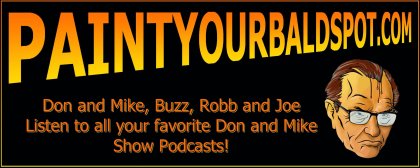 News: DonAndMikeWebsite.com is now part of PaintYourBaldSpot.com
I have purchased
https://donandmikewebsite.com
and pointed it to this site
https://paintyourbaldspot.com
. Welcome - Don and Mike fans.